Za'atar Spiced Chickpea and Kale Salad
2021-07-26
This warm salad is delicious, perfect for a quick and easy lunch.
Serves: 2
Ingredients:
1 can of chickpeas, rinsed and drained
3 cups of fresh kale, chopped
1 garlic clove, crushed
2 tablespoons extra virgin olive oil
1 tablespoon SpiceMiss Za'atar
1/4 teaspoon cayenne powder
Salt to taste
Steps:
Put a cooking pot on the stove and turn on the heat to low.
Add the extra virgin olive oil and crushed garlic in the pot. Let it heat slowly until the garlic turns golden and you start smelling garlic, which will take about 1 minute. Make sure not to burn the garlic.
Add the chickpeas to the pot and stir everything to combine the ingredients and let the oil coat the chickpeas. Cover and cook for 2 to 3 minutes. Add 2 tablespoons of water if necessary.
After the chickpeas are heated, add the chopped kale to the pot. Mix together and cover the pot. Let it wilt down for a couple of minutes.
Next add cayenne powder and salt according to your taste. Cover the pot again and let it cook for 2 more minutes.
After the chickpeas are cooked and the kale is softened, add the za'atar to the mixture. Combine everything and turn off the heat. Serve warm!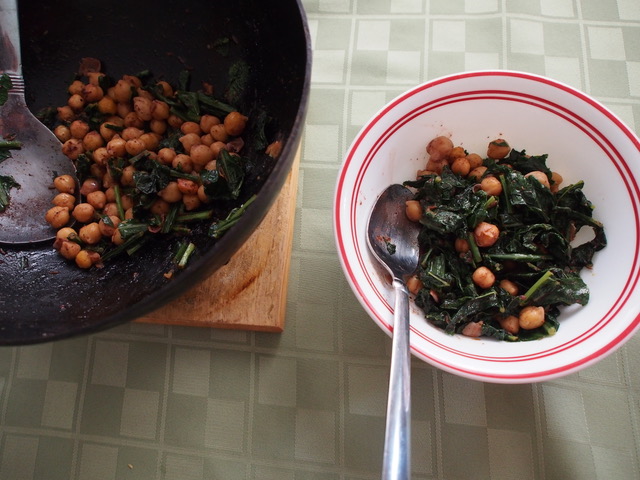 Lots of Kale!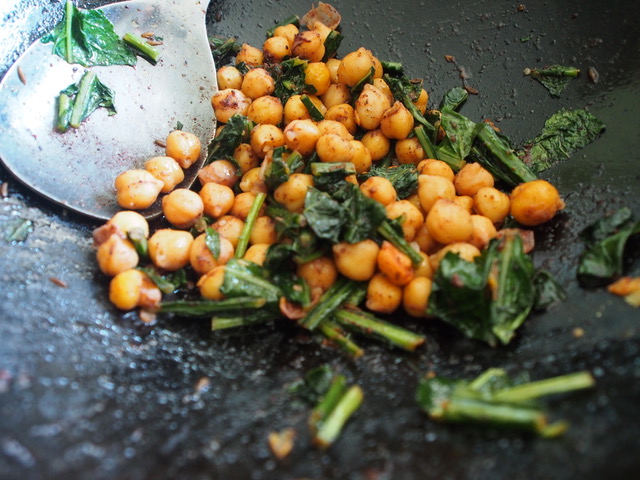 Almost gone...