Stuffed Okra
2021-06-16
As a kid I was not fond of okra (lady finger). This could be because of its slimy texture. I don't remember exactly how and when, but over the years I started liking it as a vegetable. I started searching recipes to cook okra in various ways. Okra is a wonderful vegetable when you cook it right and there are many recipes to cook it. Stuffed okra is a common method to cook okra in India and the recipe makes perfectly cooked okra without slime. I found beautiful baby okra at the farmer's market this year and decided to make stuffed okra.
Ingredients:
1 lb okra
2 tablespoons cooking oil
4 tablespoons chickpea flour
4 tablespoons almond flour
2 teaspoons SpiceMiss garam masala
1 teaspoon paprika
1/2 teaspoon turmeric powder
1/2 teaspoon sugar
1/4 teaspoon cayenne pepper powder
1/4 teaspoon asafoetida (hing) - optional
2 tablespoons fresh lemon juice
1/4 cup cilantro, finely chopped
Salt per taste
Steps:
Wash the okra pods and pat them completely dry. Then trim the top and bottom off. Make a slit in the middle of each okra creating a pocket to stuff the stuffing. Do not split the okra in half.
To make the stuffing, combine together the flours, spices, salt, and sugar. Add the lemon juice and cilantro in the flour mixture.
After combining all the ingredients, taste the stuffing and adjust the seasonings accordingly.
Fill the stuffing carefully in each okra slit.
After the okras are stuffed, heat a pan on medium heat. Add the oil to the pan.
Arrange the stuffed okra in the hot pan, sprinkle a pinch of salt and cook them uncovered for 8 to 10 minutes depending on their size. Turn them in between so they will cook from all sides.
Serve hot okra as a side dish or with naan.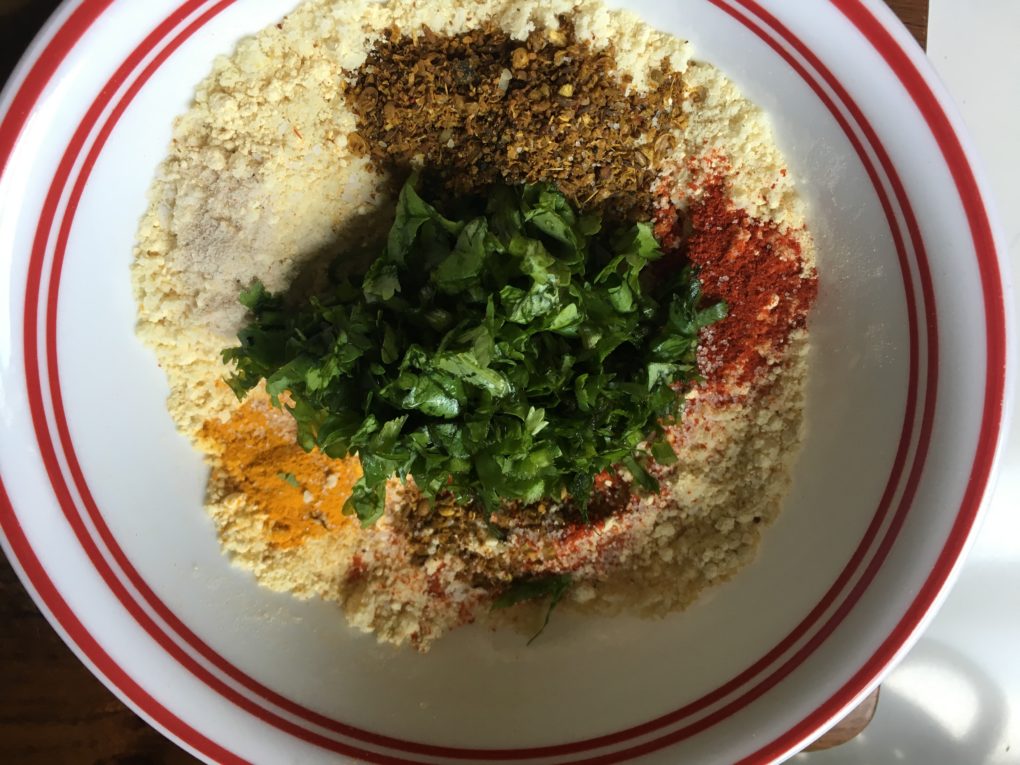 Mix all the ingredients to make the stuffing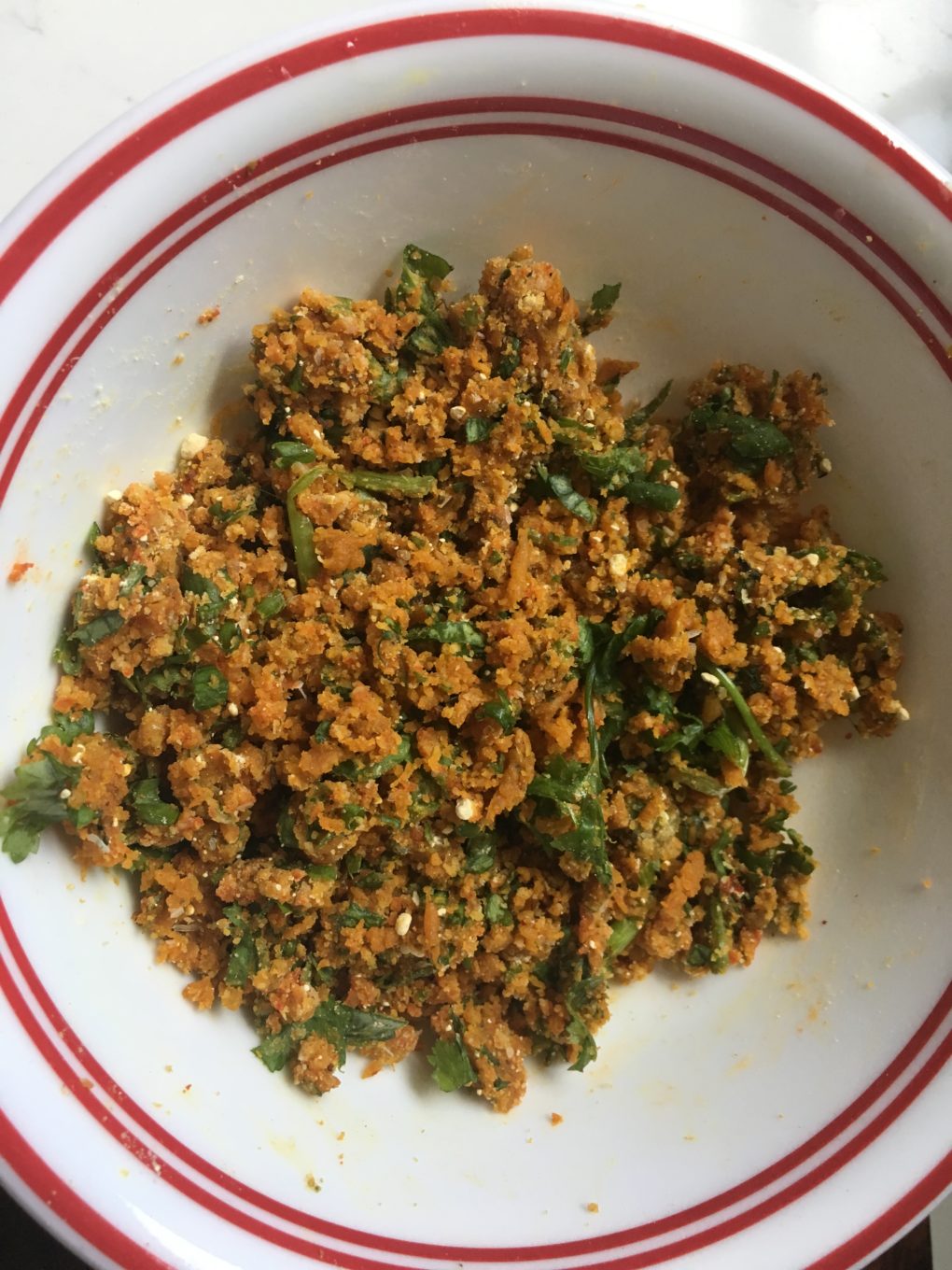 After adding the lemon juice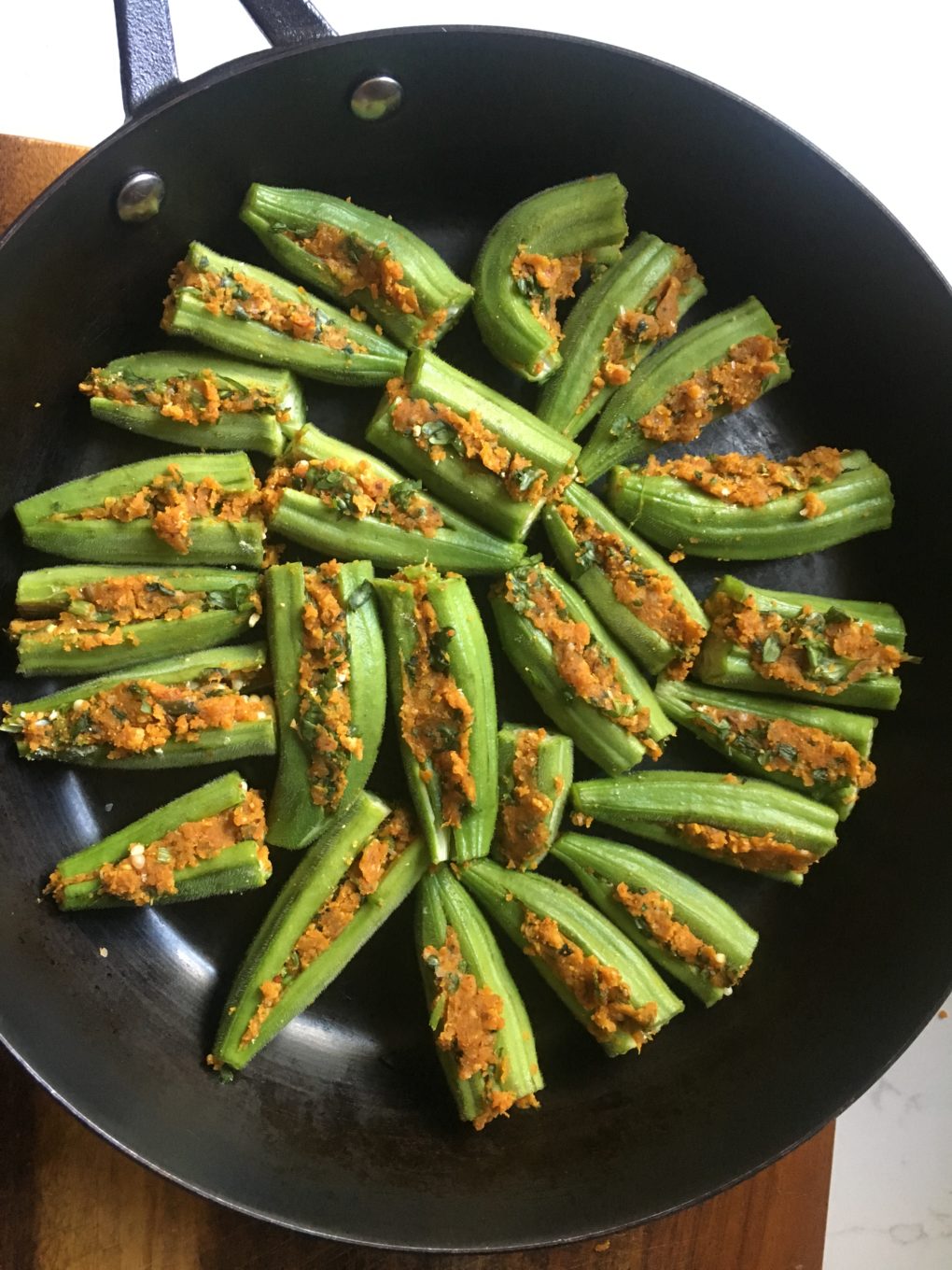 Stuff the okra and arrange it in the pan
Cooked Okra
A cook's note:
There are other variations to make the stuffing. Here are my suggestions:
You can use ground peanut instead of almond flour.
Use a mixture of sautéd onion+tomato+bread crumbs to stuff the okra.